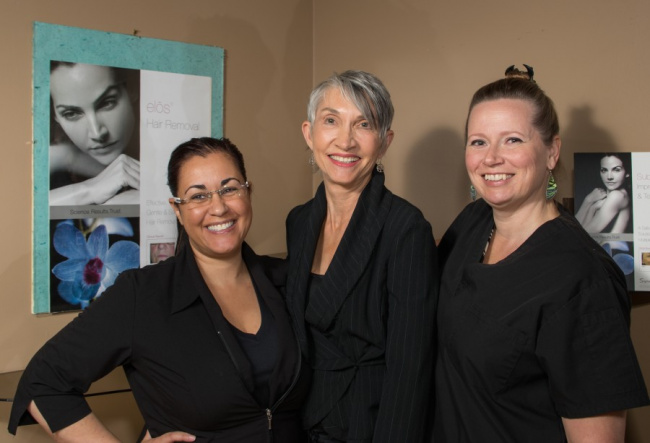 Jeannie Hiebert CPE (centre)  Began her career  as an electrologist in 1979  after being certified and later received her Certified Professsional Eelctrologist Designation.  She has operated Genie Solutions since 1981 (then Genie Electrology), as well as a provincial trade school  (Genie School of Electrology) instructing in permanent hair removal methods.   Learning never ends however and after 35+ years her clients are still her best teachers.
Marcia Gomez (left) has been providing electrolysis with us for 15 years!  She is a true expert, and loves her work, especially educating her clients and  others through photo and video documentation tools that she has developed.
Cindy Szydlik (right) has been our laser tech since November 2010. She is known for her very thorough treatments and creative use of our technology.
Most people are unaware of the complex patterns and behaviours of hair growth. Our staff will evaluate, explain and provide the most effective and practical approach for you.
Mission
To provide a clean, safe, and comfortable environment.  To assist you in feeling better about yourself and enhance your natural beauty.
To  provide a service that has permanence and will bring you priceless dividends for the rest of your life.
To inform,  advise and treat you professionally and fairly with the best methodologies to the best of our abilities.